SWU holds first triathlon camp
CENTRAL – Southern Wesleyan University held its very first Youth Triathlon Camp July 31 through Aug. 3 on its Central campus, introducing youngs...
---
Invasive beetle that kills ash trees found in three Upstate counties
CLEMSON — An invasive Asian beetle responsible for killing hundreds of millions of ash trees in North America has been found in Spartanburg, Gre...
---
A University of Maine balloon will provide a 110,000-foot view of eclipse at Clemson
CLEMSON — The best view of the Eclipse Over Clemson just might be from the stratosphere, 110,000 feet above campus, where two weather balloons f...
---
Clemson '55 Exchange engages students in running a business
CLEMSON — Clemson ice cream has been tantalizing taste buds since the 1920s. Available in the student-run '55 Exchange store on campus in ...
---
SDPC names Teacher, Support Employee of the Year for the 2017-2018
PICKENS COUNTY — The School District of Pickens County has announced the new Teacher and Support Employee of the Year for the 2017-2018 school y...
---
rPCSO asks SLED to look into man's death
PICKENS COUNTY — An investigation into the death of an Easley man while in police custody has been turned over to the South Carolina Law Enforce...
---
Hunter education class set Aug. 26 at Clemson SCDNR office
CLEMSON — A hunter education class taught by the S.C. Department of Natural Resources will be held from 8 a.m. to 4 p.m. Aug. 26 at the Clemson ...
---
Ride to the Rock set for Sept. 16
PICKENS — On Sept. 16, the Pickens Rotary Club will host the Ride to the Rock cycling event.The ride begins in Pickens and challenges riders wit...
---
Tri-County to offer crystalline silica course on Aug. 30
PENDLETON — Tri-County Technical College will offer a half-day course, "Crystalline Silica for the Competent Person," Aug. 30 at the...
---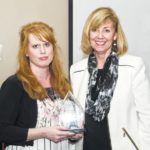 McGuffin receives provost's award
CENTRAL – Southern Wesleyan University presented Melanie McGuffin, an online student from Mt. Holly, N.C., with the 2017 Provost's Communi...
---